Armageddon Time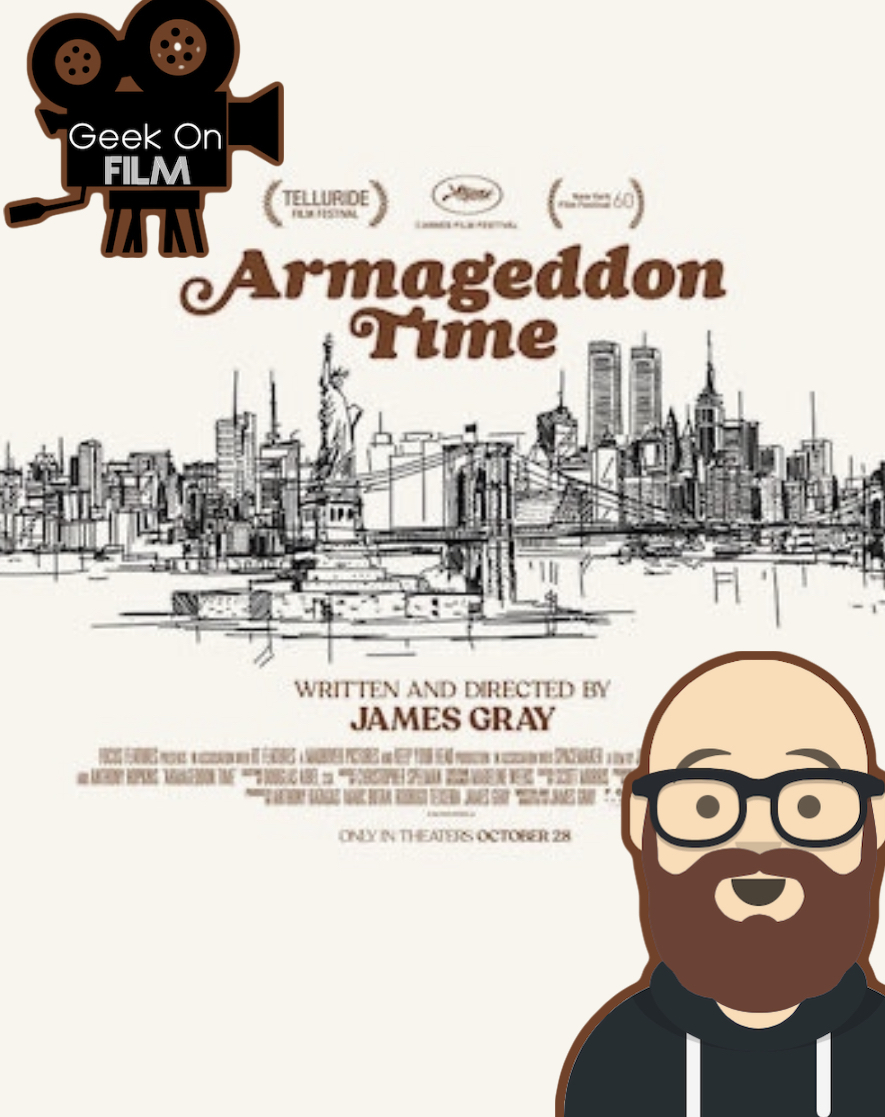 Review Date:
Synopsis: A deeply personal story about the strength of family, the complexity of friendship, and the generational pursuit of the American Dream.
Review:
As a native New Yorker, that was 6 when this film takes place I was predisposed to being moved and to see myself, my life and my experiences in this film. I walked to my car, texted my wife that I was on my way home, her response was, "Cool. Like movie?" and my response was about a minute later, "It was very interior and small. I need to sit with it.". The truth is I am still not sure if I "liked the movie", there is so much to chew on intellectually but at the same time so little is prepared for you by the film maker, James Gray. Another reason I was expecting to love this film was hearing James discuss this film and just have some of the most deep and real conversations on podcasts for the last month, one I will call out two podcasts. The first podcast was The Big Picture where Sean Fennessey really digs in with James and you can feel the level of respect and honest conversation around this film and film in general. The second was the Directors Guild of America (DGA) podcast The Director's Cut> where James and Matt Reeves talk about Armageddon Time and it was obvious there is deep friendship, mutual respect and affection between the directors.
James Gray has assembled an astounding group of actors to flesh out his film, and we need to start with his surrogate the character Paul Graff, played by Banks Repeta. I walked away from the film not liking the character of Paul and super impressed with the actor Banks, a really amazing needle to thread to be sure. In those podcasts, James talks about the fact that if he was going to write a biographical film about himself, he needed to be honest about himself warts and all, I can say mission accomplished. The character is a bit of a jerk, a bit of a wide-eyed naive, self-centered kid like most of us were in our childhood. Next is Paul's schoolmate and friend Johnny Davis who lives in Hollis Queens with his grandmother, played by Jaylin Webb. The character is smart, affecting and aware of how being a young black man without a lot of resources is how the society sees him. The actor is charming, warm and plays Johnny as an overly confident, street smart NYC pre-teen, and is someone that feels truly of the time period and from New York that he is playing. Both of these actors are now on my radar going forward, can't wait to see what this duo does next.
Next we can jump to Paul's parents, Ester & Irving Graff, played by Anne Hathaway and Jeremy Strong, James describes casting his parents as larger then life, powerful actors in the DGA podcast, and I can say without a doubt: Mission Accomplished. I think that both actors play complicated characters that feel familiar and I can recognize the DNA of these people in my own life experiences, even if not in my family. There is an truly moving scene near the end of the film between Irving and Paul that allows Jeremy Strong to be vulnerable, broken and sad in front of his son that is heart-breaking. The rest of the family feels extremely genuine and I could have walked into a friend's house in Park Slope Brooklyn in my childhood and met, the grandparents, there is one person that is, in my humble opinion a bit miscast even if he is wonderful. The real connective tissue to Paul is his grandfather, Aaron Rabinowitz who is played in this film by Anthony Hopkins. Every scene he is in with Banks is warm and sweet, including calling grandson Jellybean, he is evocative, powerful and personable as the patriarch of this family. I had a hard time seeing him fitting into this family in Queens in 1980, he feels like Anthony Hopkins from any of the 10 years, Odin from the Thor: Ragnarok or Anthony from The Father or Peter's father in The Son. There are so many great, older New York based character actors that could have filled this role and brought a bit more of the New York grandfather feel to this film.
There is also a storyline about the the Graff boys, Paul and Ted attend a private school, paid for by their grandfather. After Paul's rebellious exploits with Johnny in public school, Paul is sent with his brother to this private school and on his first day there is an assembly where Maryanne Trump, an alumni and Assistant US Attorney speaks with the tone of elitism. The role of Maryanne Trump is played by Jessica Chastain, and is a bit jarring within the flow of the film, almost a bit of stunt casting for a small cameo. He also runs into Fred Trump in the hallway who is played by John Diehl, and is asked what his name is, and after Paul says Graff there is a follow-up question of what kind of name is Graff. It turns out that Fred Trump is a financial supporter of the school, and Ronald Reagan's presidential election. There is a very us vs. them feeling of these scenes, and the feel of questioning lineage and background, that Paul seems kind of oblivious too.
I really wanted to love this film, and throughout the media run up to this film wish I had an opportunity to get to know James Gray, he is charming, fascinating, smart and strong-willed from all the interviews I have heard. I am truly excited to visit some more of James' films, I already have Ad Astra on 4k Blu-ray waiting for me.