Once Upon a Time in Hollywood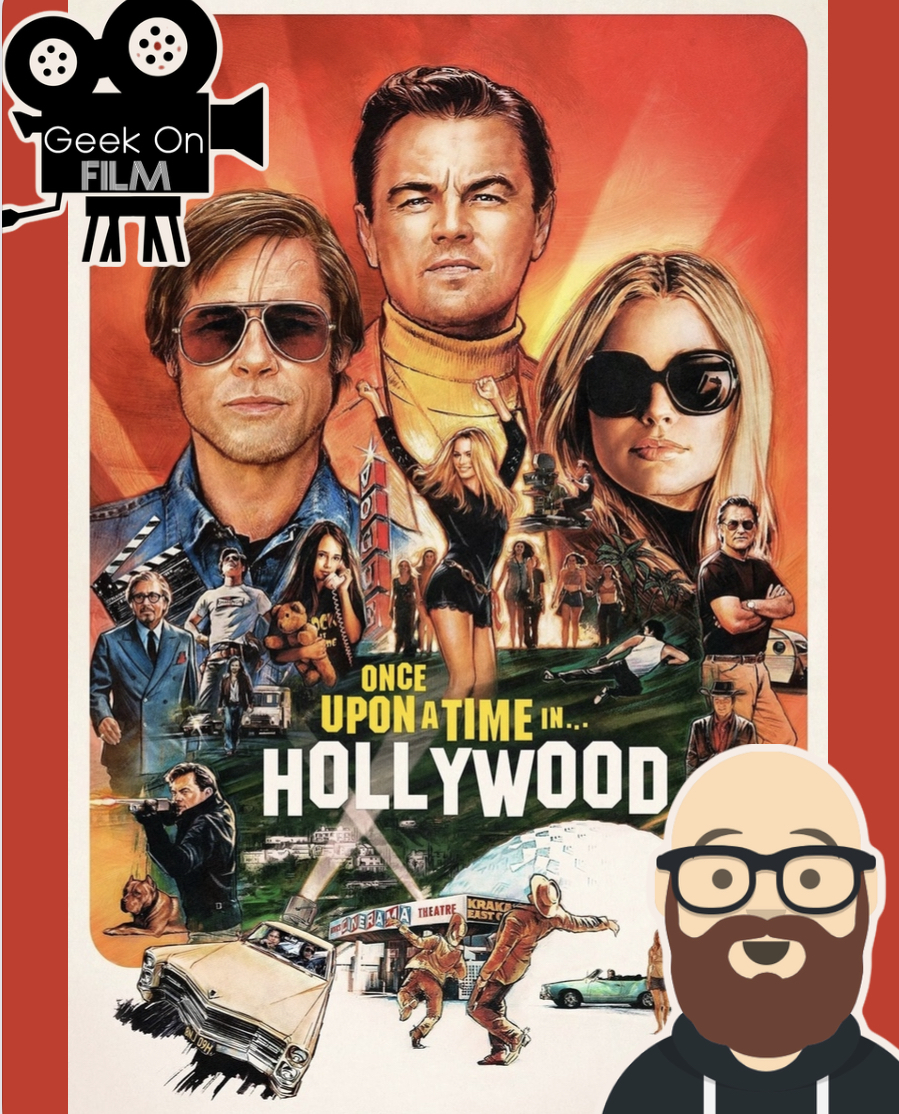 Review Date:
Synopsis: Los Angeles, 1969. TV star Rick Dalton, a struggling actor specializing in westerns, and stuntman Cliff Booth, his best friend, try to survive in a constantly changing movie industry. Dalton is the neighbor of the young and promising actress and model Sharon Tate, who has just married the prestigious Polish director Roman Polanski…
Review:
I recently purchased the 4K Steelbook from Best Buy of this film. An modern 4k transfer and this review is my watch of this new 4k release not the theatrical experience from back in 2019, but a rewatch on my home setup 65" Samsung Television with a Samsung A950 soundbar and the Sony UBP-X800M2 4K Blu-Ray Player. The picture quality feels really in line with the image I remember from the theater, the main film feels a bit soft, and almost gauzy I think to make the film feel of the time period that the film takes place. There are two sets of scenes that truly benefit from this decision those that take place at Spanhn Ranch that the Manson family have taken up residence and all the scenes of Cliff Booth, played by Brad Pitt cruising around the streets of Hollywood feel tonally perfect for this visual choice. The audio is the DTS-HD Master Audio 7.1, so directional sound but no real object based sound, honestly on my home setup, it felt a bit flat, loud but directionless without a lot of separation.
This is an additional film in the Quentin Tarantino alternate history film series, where he takes a true story, makes a minor tweak to history and this changes an important historical event or time. In this case we are introduced to Sharon Tate as the neighbor of the primary storyline protagonist Rick Dalton, played by Leonardo DiCaprio, and Sharon is played by Margot Robbie. Neither Rick or Cliff are real, they are fictitious and created for this film, in reality Sharon is killed the Manson family cult and this film ends in a very different way, with the death of the Manson family members, killed by Rick and his right-hand man and Cliff. The last 15 minutes are action-packed and a bit brutal, but overall I was a bit underwhelmed on this rewatch, and actually I felt similarly the on my first watch.
The relationship between Cliff and Rick is one where Rick needs a friend, and Cliff his longtime body double and stuntman is that friend, not a even or honest relationship but a symbiotic using of one another. Cliff is Rick's driver because Rick got caught driving drunk too many times, likely only held accountable when there was property or human damage, and Cliff really only works when Rick does, so keeping Rick afloat no matter what that takes seems to be his main motive, not to say there isn't some care but that is the driving aspect of the relationship as presented to us for Cliff. This storyline has some of the most well-known and highly regarded scenes in the entire movie, with Rick's meltdown in his trailer where he is on set of some new up and coming actor's western, where he is the "heavy" or main bad guy that the young upstart actor and cowboy takes out in the pilot. I am a fan of what Leo pulls off in this segment but it is one of the most uncomfortable stretches in modern cinema, and on rewatch I kept finding myself wanting to pause and not engaging. Truly heartbreaking watching an aging actor fall apart on-set in front of the cast, crew and himself, heading to his trailer for one of the most unhinged solo scenes of self hate I have ever experienced.
The Manson family storyline feels so different then the previous thread, but is connected because as Cliff is driving across town either running errands for Rick or off on his own in Rick's car, he crosses path's with Pussycat, played by Margaret Qualley one of the young woman that are part of the Manson family. After a few chance encounters, Cliff finally stops when she is hitchhiking, and drives her home, which turns out to be Spahn Ranch where lots of old cowboy films were shot. This leads to Cliff basically forcing his way back to see if the "family" had killed off the owner George Spahn, turns out they hadn't when we find him played by Bruce Dern, a broken-down blind, old man that seems ok with the current situation. There is a huge ensemble here on the ranch, we are introduced to a few standout characters, Tex Watson is the stand-in for Charlie who isn't there, who is played by Austin Butler and Squeaky Fromme who is Spahn's caretaker played by Dakota Fanning. The rest of the Manson family is a who's who of young talent with so many actors that you will recognize some notable folks are: Snake played by Sydney Sweeney, Gypsy played by Lena Dunham, Flowerchild played by Maya Hawke, Froggie played by Harley Quinn Smith and Clem played by James Landry Hébert. I mention Clem because he sticks a knife in the front driver's side tire of Rick's car, and Cliff makes him replace the tire after beating his ass.
I have spent a lot of time thinking about this film, and the choices that the director/writer and the actors make. I think that is it truly a love letter to "old" Hollywood, with some of the actors that make up "new" Hollywood, so even the casting is telling the viewer something. I still can't say that the filk is a complete success for me but I am warmer on it after this rewatch then my initial viewing. You can't sleep on Quentin, he is a unique voice that is truly his own, you will never find yourself saying who wrote or directed this film if he is involved.